Get all the advantages of the most powerful digital solution
and the best could computing technologies!
We are the team of technical experts in Digital Signage area with over 10 years of experience in the business. Before starting the service we did an extensive research of available products and solutions on the digital signage market, we picked the best product and tested it on major cloud computing platforms. Finally, we piloted and successfully launched several large-scale projects based on the best combination of digital signage and cloud computing platforms.
The service we offer is based on the most advanced digital signage platform which is MagicINFO. MagicINFO solution was developed by Samsung for Samsung Smart Signage displays, that results in an exceptional synergy between the display hardware, software and the server functionality.
The latest platform, MagicINFO, has an outstanding functionality, for most of the questions like "Is it possible to do ..." the answer will be positive. According to our tests and project experience, the best cloud computing service platform to run MagicINFO, by reliability, security, scalability, and accessibility worldwide is AWS, therefore the service we provide to our customers is based on the integration of two best platforms - MagicINFO digital signage and AWS cloud computing.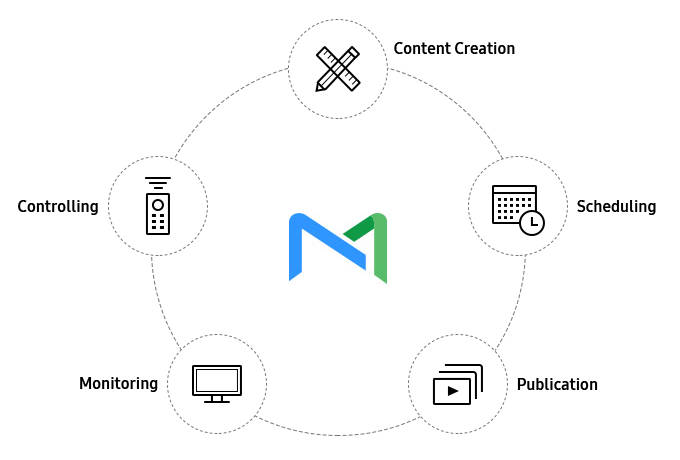 User-friendly web-based content management system
Regardless of how many digital displays you need to handle, it all becomes easier to manage now through the streamlined and centralized capabilities of MagicINFO. A network-based solution that brings everything together into a simplified format, plus gives you complete management and oversight of your content deployments. In addition, it improves previously complex content authoring, management and playability and processes all those functions into a basic routine that allows businesses to engage customers faster and with less effort.
Create compelling content for consumers
MagicINFO Author empowers users to expand messaging potential without disrupting operations. The platform possesses customizable and integrated visual effects and imagery. Displays can also be linked with Accuweather, RSS feeds and other data-based programs to provide real-time information.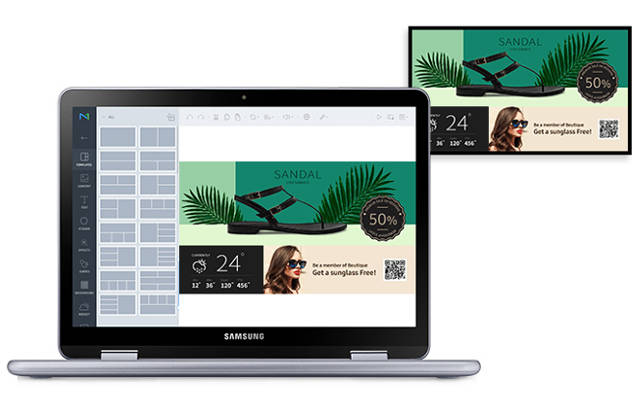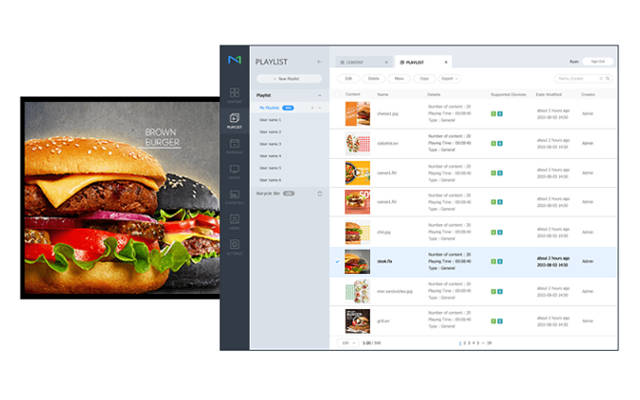 Organize and schedule content with ease
MagicINFO Server, as an On-premise CMS server deployed on your system, ensures a more convenient and efficient content production experience through an intuitive user menu. The Server mirrors the drag-and-drop user interface of the central platform, and provides similar avenues for users to adjust content schedules and build playlists.
Enhanced playback functionality
Whether in portrait or landscape mode, MagicINFO can stream up to three FHD quality videos simultaneously from multiple sources at consistent 4K UHD picture quality, with accelerated refresh rates to prevent streaming delay and black screens as content transitions.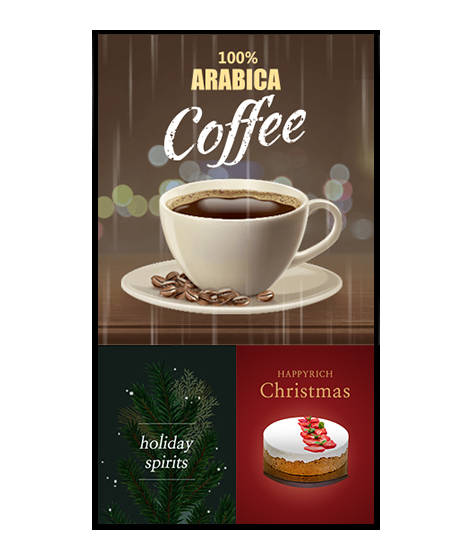 Lite
$13.49
per device/month
Full administrative access

150 MB Storage

E-Manual access

Support system

Automatic updates
Buy
Premium
$29.99
per device/month
Full administrative access

1 GB Storage

Device monitoring

Web based content management system

E-Manual access

Support system

Automatic updates
Buy
Lite
Premium
Full screen pictures and videos
Playlists
Screen designer (Web Author)
Display remote access
Display remote control
limited
Streaming Video
Sync play
Supported media file formats
jpg, wmv9, ppt
jpg, jpeg, bmp, png, pdf,
ppt, pptx, doc, docx
Multi-Channel schedules
RSS
VideoWall function
Got any questions?
Please do not to hesitate to contact us to find out all the possibilities of MagicInfo and the excellent support you get from our helpdesk.